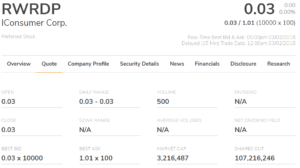 iConsumer Corp. Series A Preferred Non Voting stock is quoted on the OTCQB market.
On March 1, 2018, the first trade occurred.  We are as thinly traded as is imaginable.  That is, as of today, only one shareholder has said "I am selling 500 of my shares at the price somebody is willing to pay".  And he did that as an experiment, just to make sure that the system worked.
When a stock is thinly traded, the bid / ask prices generally do not reflect actual company value.  In the image above, the current bid price is $.03 and the current ask is $1.01.  That translates into the fact that a market maker (a special kind of stockbroker) is willing to buy at $.03 per share, and is willing to sell at $1.01 per share.
You get to decide at what price you want to try to sell, and at what price you're willing to try and buy.  If you have iConsumer shares recorded on the books of our transfer agent (Issuer Direct) and are interested in transferring them to a stock broker, please see this knowledge base article.