Each month, I'm bringing all of our stakeholders up to speed on events affecting their participation in the growth of iConsumer.  Our goal is to make everybody an insider as we chart new territory in building a crowdfunded business.
Marketing
Our Faces of Wall Street campaign has launched full blast and is doing quite nicely.  As I write this, we're over 15,800 member / shareholders, and growing around 100 a day.  That trend continues to improve.
There are three critical factors to this campaign.  The first is the cost of paid acquisition, the second how many members an existing member recruits, and lastly, how much shopping do members recruited via this campaign do.
We use a variety of paid channels (think Google AdWords, Facebook, Instagram, Pinterest, and others).  Our cost per new member via these channels is $10 or so, on average.  That is better than our expectations, so we're quite happy with our paid media spend.  We are working constantly to bring that cost down even lower.  The counterbalancing force is our need to increase the rate of membership.  As we cast our net for new members wider, we may find that our cost to acquire those members goes up.
For competitive reasons, I'm not going to publish our new member referral rate or how much shopping each new member is doing.  It's good, but I'd like it to be even better.  We've been focusing on paid acquisition, and now we're beginning to focus on "organic" growth.  To a lesser extent, we're working on increasing shopping per member.  But right now, member growth is the mantra.
Easier trading
Our shareholders are allowed to sell ("trade") their stock anytime they want.  That's very much unlike traditionally funded startups.  But just because you can, doesn't mean that it's easy.  We're making progress towards our goal of being quoted on a market to make it easier.  We're in the middle of the FINRA approval process, with questions and answers being traded between FINRA and ourselves.  Once they have approved us, they'll issue us a ticker symbol of their choosing.  Then, if we don't like the symbol, we'll ask for a cool ticker symbol.  FINRA does not publish a timetable for their activities, but we really hope it'll be soon.  After that step, we have one more approval step in order to make our shares electronically transferable between brokerage houses.  And finally, once those pieces are in place, we apply to a market (we're thinking the OTC QB).
This is taking longer than we were told it would take.  In great part it's because we're among the very first companies to follow the path we're following, and the folks who are responsible for giving us guidance have never crowdfunded a company in this manner before.  Every time I work on this aspect of our business, I'm reminded that we are voluntarily pioneers.
Regulatory Compliance
As a Regulation A+ company, we're required to file certain documents and statements.  We think that's good. It includes audited financial statements.  Our audit is underway now.  Other things we file that you wouldn't normally see from a startup are documents like option plans.
Three great things about being a Regulation A+ company (Title IV, Tier 2).  First, the SEC allows us to have millions of shareholders.  Second, those shareholders can sell their stock without restriction.  And third, the amount and complexity of regulatory compliance is less than a traditional public company encounters.  That last point directly translates into lower cost for us.
Site and Product Improvements
While we're always releasing new improvements and features for our site, our ios and Android apps, and our browser extension / add ons (the iConsumer Button) one improvement has direct bearing on shareholders.
We've changed our display of which shares are pending, which are earned, and which have been transferred to our transfer agent.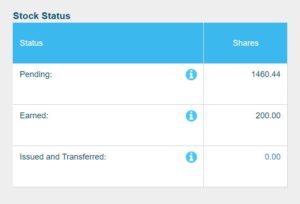 Check out your current stats now.
Hints of the Month – Tell Friends and Shop
Here's the deal.  You are an owner.  You can own more of iConsumer, and you directly affect making what you own more valuable.  Best of all, you don't need to part with extra cash to make that happen.
First, shop.  You'll get savings, some cash back, and you'll earn more iConsumer stock.  Want to make that easy?  Hate forgetting?  Get the iConsumer Button and/or our apps.
Second, tell your friends.  Did you remember that you get 50 shares for a Facebook post with your face attached as we work to Change the Faces of Wall Street?  And 100 more shares for each person you refer who becomes a shopper?  Right now, those shares are priced at $.09.  As we become bigger, we're working to make that mean we become more valuable, and thus, make those shares more valuable.  More members = more valuable.
Want to Own Even More?  $25 gets you there!
For a limited time, we're accepting more investors into iConsumer.  For as little as $25, you can become an investor, if you want to increase your ownership. Previously, investors purchased shares priced at $.045 a share.  Now, those same shares are priced at $.09 a share.  Our plan is to increase the price as we continue to grow and be more valuable.  Invest today.
Questions?
Being first, we expect lots of questions.  We have answers on this site, and at iConsumer support.  The really hard questions I actually attempt to answer myself.
Thanks from all of us at iConsumer.
Rob