The fun has begun.  Our stock price has begun to swing pretty dramatically, even in the course of a day or two.  It's being volatile.  The big price swings happen because there are still very few sellers and buyers.
If you're going to buy or sell RWRDP, please make sure you understand your options and how this market works.
Here's my standard disclaimer:  I DO NOT KNOW WHETHER THE PRICE OF RWRDP WILL GO UP OR DOWN.  I AM NOT MAKING A SUGGESTION THAT YOU SHOULD BUY OR SELL.  I WANT THE PRICE OF RWRDP TO GO UP.
Yesterday, somebody sold our stock for $.02/share.  The time before that was for $.30/share.  I believe a market maker (a professional stockbroker who specializes in this sort of thing) bought those shares yesterday.  That market maker is going to try to sell those shares for a profit.  Here's the data: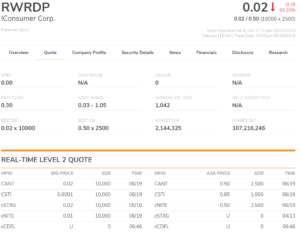 That first line, where CANT (a market maker) is willing to buy 10,000 shares for $.02 each, and is willing to sell 2,500 shares at $.50 each, tells the entire story.
Remember, when you go to sell or buy RWRDP, you get to set the price you're willing to accept.  You do NOT have to sell at the current market price.  CANT won't sell unless somebody offers them $.50 per share.  You don't have to, either.  CANT won't buy unless they can buy our stock for $.02 per share.  You can do the same thing.
It does take patience.  And there is risk.  You may think that selling today for $.02/share is better than waiting and maybe getting more per share, because maybe you'll get less per share.  Completely up to you.
So that's today's tidbit.  You don't have to sell at the market price, but you can if you want to.  Happy trading!