Overview – The CEO becomes a supernumerary
This letter is later in the month than normal for a great reason.  I took a holiday that was completely off the grid.
Why should you care?  Because iConsumer operated perfectly for two weeks without me.  I successfully became an extra in the iConsumer play (at least for two weeks).
One of a manager's most important responsibilities is to ensure continuity and stability in their area of the business, even if he or she is gone.  That's easier to achieve when you're a ginormous company, but iConsumer is anything but big.  We like it that way, much more efficient and responsive.   But it means that any one person leaving, even for a planned vacation, places a greater load on the folks who remain.
Bottom line, while I like to think I'm still important to iConsumer's growth, we've proven that the company we're building can be healthy without me, and that's good for all of us.
All credit goes to the team, with special mentions to Melinda, Kim, Jay, and Sandi.  They're the ones who ran your company perfectly.
Offering Successful – Closed on May 10
In order to move to the next steps in getting quoted on a market (our aim is the OTC QB), we needed to close our offering.  So that's done.  As an fyi – we're not allowed to sell stock unless we have an "open", qualified offering.
We are very pleased that we had hundreds of people invest cash in iConsumer.  Our historical first of a minimum investment of $25 worked, and many people invested more than that.  The people who invested in our early stage company were the 99%.  Anecdotally, most of our new investors had never invested in a mini-IPO before.
We expect (subject to unpredictable regulators)  to have a new offering in place in early summer.
More on the process later in this post.
Marketing – Member and Investor Growth
30,000 Members!
On May 30th, we broke the 30,000 member / shareholder mark.  That's a 50% increase from my last CEO letter.  45 days and 10,000 new members!  Our cost of acquisition stayed low.  While we still have a ways to go to reach our goal of 1,000,000 member / shareholders, we're making great progress.  The 99% are truly building a new kind of company.
The ability for our member / shareholders to earn 100 shares for each new shopper they refer is a big part of the recruitment success.  The people who build the company own more of the company.  The Change the Faces of Wall Street marketing campaign makes it fun and easy.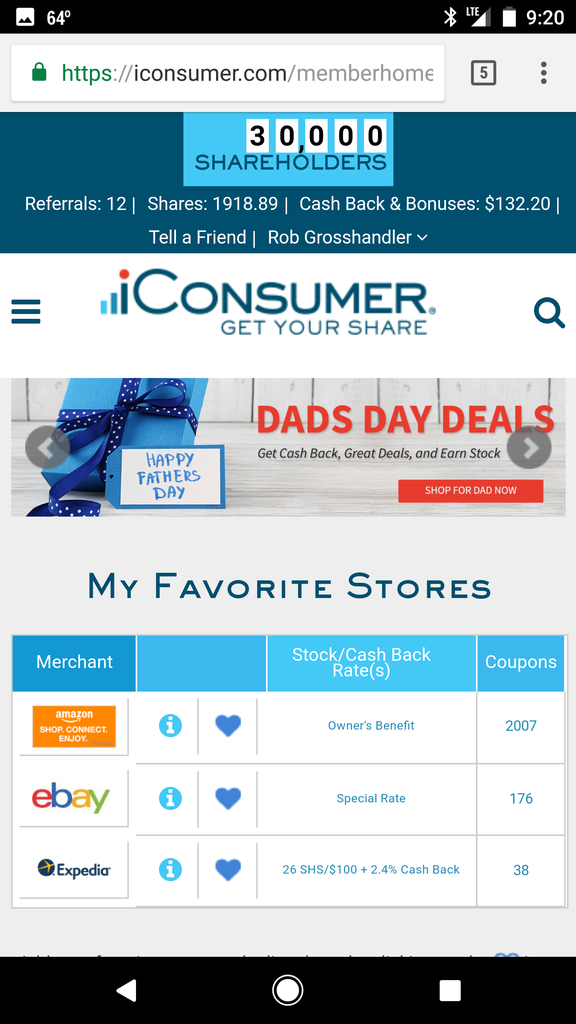 Investor Marketing
Because we will need significant additional capital to fund major growth, we have begun reaching out to professional investors in order to build interest, ahead of filing a new offering.
We're making our first appearance at a professional investor oriented event, the LD Micro Cap conference in Los Angeles, in early June.
Appearing at these kind of events has a second important purpose.  When our stock is quoted on a market, we want the stock price to go up.  Making sure that professional investors understand the unique nature of iConsumer is one pillar of our strategy to help that happen.  Of course, because we don't control markets, we can't control the price of our stock on a market, but we can definitely work hard to influence that price.  More and more of my responsibility will be focused on investor relations.
Financing & Regulatory Compliance
FINRA, the SEC, and Cash
Closing our offering was the first step in getting FINRA to review and hopefully approve our submission.  Once they do that, they'll assign us a ticker symbol.  We still need to get approval from the OTC (our application to be quoted on the OTC QB has been submitted) and have our stock DTC qualified (that's the process that allows our stock to be electronically transferred into shareholder accounts that are NOT held at Issuer Direct – our transfer agent).
Stupid fun fact.  The ticker symbol FINRA assigns to us will probably be meaningless and forgettable.  We'll need to apply to them again to give us a fun, easy to remember ticker symbol.
The end result of that process is that the stock you own (whether you purchased it or earned it) is more easily traded.  In other words, while you "can" sell your stock today, it's hard to do, because nobody knows that you want to sell it.  Getting quoted on a market makes it easier.
We grew 50% from my last CEO letter.  We'll need more cash to fund continued growth.  Which means we need to file a new offering with the SEC. The SEC is taking about 60 days to qualify new offerings, but there are no guarantees.  I expect that the stock price in the new offering to be higher than the $.09 per share in the prior offering.
We'll file that new offering as soon as practical after we receive FINRA approval.
As always, you can see our latest SEC filings here.  Two additions since my last letter.  Our annual report Form 1-K (that's a big deal) and our Form 1-Z, which closed the offering that was qualified in February.
Transfer Agent Blues
We're already setting new records on our way to 1,000,000 shareholders.  Not unexpectedly, that means we're finding opportunities for improvement in our reporting to you.  One of those places involves reporting to you your stock holdings.  As you may recall, by law we're required to utilize a company called a transfer agent to keep the records of the shares that have been issued to you.   The transfer agent has the final word on how many shares of stock you own and they're the folks you'll instruct to transfer your shares if you sell them to somebody, or wish to have them in your brokerage account.  We're using Issuer Direct as our transfer agent, and they're great to work with.  But.
Our process of transferring them information on the stock you've earned and perhaps purchased has created multiple Issuer Direct accounts for some shareholders.  We're working with them to fix that.  The other bothersome issue seems to be that many shareholders' email systems are blocking email from Issuer Direct.  Their email is being treated like spam, so many shareholders aren't getting their Issuer Direct statements.
It doesn't actually affect anything, you own what you own, but wouldn't it be nice to get your statement?
Here's how you can help.  Whitelist the domain "issuerdirect.com".
Become an Investor – But Not This Month
We'd love for current member / shareholders to consider investing cash to help us grow.  However, until we have an open, qualified offering, we can't accept your money.  We expect to be able to accept your money later this summer.  We'll be certain to let you know.  The $25 minimum is a wonderful way to get your feet wet.