An open letter to shareholders and prospective shareholders.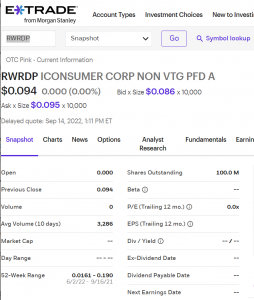 If you hadn't noticed, our stock has come to life. Volume, price and the bid and ask are all up. The Plan is beginning to work. And that's exciting. Even more exciting if you decide to help your company out.
An updated history seems in order. Want more? Lots of detail throughout this blog.
The Plan in a Nutshell
Make magic happen: A higher stock price helps our revenues go up.
We're a penny stock on the OTC market. We have very little float. Possibly a third of the float is held by people who can't or won't sell. And that's the silver lining. At today's stock price you might be able to buy the entire available float for $225,000. With so little float, any buying activity stands a better chance of raising the stock price.
Few, if any, companies have this potential magic
The Plan's first step was to get a few individuals buying 1,000 shares here, 1,000 shares there. They risked the price of a good dinner. Done. The stock price went up. Next, get more individuals involved buying and shopping and joining. This post is part of that effort. At the same time, set the table so that people able to write $225,000 checks are intrigued, then maybe one or more of them buy up the float (and they'll be prepared to hold). Leverage that to approach institutional investors and raise serious capital to fund growth that helps keep our stock price going up.
Equity crowdfunding – a cautionary tale
At the dawn of equity crowdfunding I asked myself: if every customer were a shareholder, and every shareholder a customer, and simply by shopping each customer was rewarded for being a customer by owning more of the company, could we create magic? Can ordinary people reap fat cat level rewards, just by shopping normally?
If we extended that concept, and rewarded people with equity for helping their company grow, could we make even more magic?
Regulation A+ made magic economically feasible. We were the third company on StartEngine – an early crowdfunding platform. Maybe the third company, ever, to complete a Reg. A+ Tier 2 offering.
And by 2018, we'd done it – our technology and stock market features were complete. We'd jumped through hoops that hadn't been invented when we dreamed up iConsumer. Every time you shopped at over 2,200 stores, you earned real ownership: OTCQB quoted and traded (ticker symbol: RWRDP) ownership. Over 2,000 people with SEC regulated stock held in an SEC regulated account, regular audited financials, the whole kit and caboodle.
Be careful what you wish for
Feasible yes. Cheap to do? Not so much. Turns out, crowdfunding works if you already have a crowd. We were a true start up – no crowd. Nobody knew what equity crowdfunding was. The few crowdfunding platforms weren't the answer for a "we don't have customers yet" start up. Even though I had built and sold businesses before, I underestimated the capital it would take to get beyond the initial launch. By the time we were "feature complete", we were out of cash. We were traded on the OTC "too soon" so the normal channels for additional capital weren't there. Being a crowdfunded "public" company meant Wall Street didn't know what to do with us. Venture folks thought we were already completely public. So even though we never had a true IPO – they wouldn't touch us. The joys of being early.
We changed our reward a couple of times looking for excitement. Got distracted by crypto. (Care to shop and get Bitcoin? Tried that … getting regulated stock held in an SEC regulated brokerage account is so, so much better.) And then the pandemic hit. And then Amazon decided they didn't like us. The opposite of exciting.
For startups, the story is everything
The crowd needs excitement – heck, I need it too. Turns out, a rising stock price is the most exciting story we can deliver. We believe a rising stock price means members join faster, it costs less to get them to join, and they shop more.
Ultimately, more shopping is key. It pays the bills. It fattens our bank account, and if we do this shopper-owned crowdfunded company thing more right than wrong, it fattens your bank account. To get there, the story matters. And you matter. We can't do it without you.
A rising stock price certainly is the best, most efficient marketing we can do. Very few companies can say that a higher stock price can lead to higher revenue. That's magical. It's the story that you can easily share.
The details are exciting, too
A story with substance keeps the magic going. Member recruitment costs are dropping – to around $20-$25 each. A story with a potentially really big, really happy ending. eBates sold for about $435 per member. Honey sold to PayPal for around $235 per member. Big numbers, juicy comparables.
Magic doesn't come along every day
Right now, though, the stars seem aligned. No guarantees, of course. A few stock trades made a difference – we think more trades will make a bigger difference.
Next step in the Plan is you
Not a shareholder? Try us out.
You'll get shares of RWRDP – your stake in our success. Once you like us, tell friends, earn a bigger stake.
Then go buy our stock. OTC:RWRDP. Right now, 1,000 shares is about the price of a nice dinner for two. If economic theory holds true, that can help drive the stock price higher. More excitement. Bigger Story. More members. More shopping. More revenue. More cash.
Already a shareholder? Shop, share with friends, maybe buy a 1,000 shares.
Make the magic.
Actual Trades Matter
One of the things we learned from the people who made purchases is that with so few people interested in selling our stock, they had to bid at or near the asking price. Getting actual buying and selling going helps to prove iConsumer is a viable candidate for investment. Most of the people told us they bought "at the market". I'd still suggest putting an upper limit on the price you'd pay for our stock. I'm thinking the price of a nice dinner, not a champagne and caviar dinner.
Be aware, be educated
All the usual investment cautions apply. It's pretty darn easy to buy our stock, a lot less easy to sell it. As a penny stock, you'll need to use a traditional broker (TD Ameritrade / Fidelity / others), Robinhood and the like won't cut it. Read our offering circular, plus our audited and unaudited financial statements. You'll learn about dilution, market forces, the competition, and more!