The Offering Price vs. The Stock Market Price
iConsumer has two stock prices for its preferred stock, traded under the symbol RWRDP.
One, the offering price, is the price we must use (it's required by SEC regulations) when you buy or earn stock directly from iConsumer. It is currently at $0.18. This means that when you get 1% stock back on a $100 purchase, you'll earn 5.56 shares.
Example:
$100 purchase X .01 (rebate rate) = 1
1 / .18 (offering price) = 5.56 shares
The other number you'll see and should care about, is the stock market price (usually just called the market price). That's the price at which the general public is buying and selling RWRDP on the OTC market. This can be used to calculate market value.
Example:
# of shares (5133.5) X current market price ($0.11) = $564.68
You can see this for your own balance of shares and the current market price on the iConsumer Dashboard.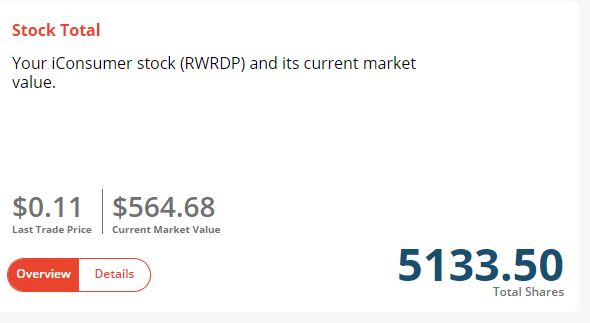 A bit of background on market price
If iConsumer used the old fashioned / traditional method of offering its stock to the public (instead using the easier, less expensive Regulation A+), then it would be allowed to have an offering price "at market". That is, we COULD adjust the stock price we used to calculate rewards on a more frequent basis, using the market price and without having to file a new offering circular each time. We've actually built iConsumer to allow that.